The best and worst-dressed men at the 2023 AMVCA
Men also brought the fashion heat to the AMVCA, who were our best and worst-dressed men?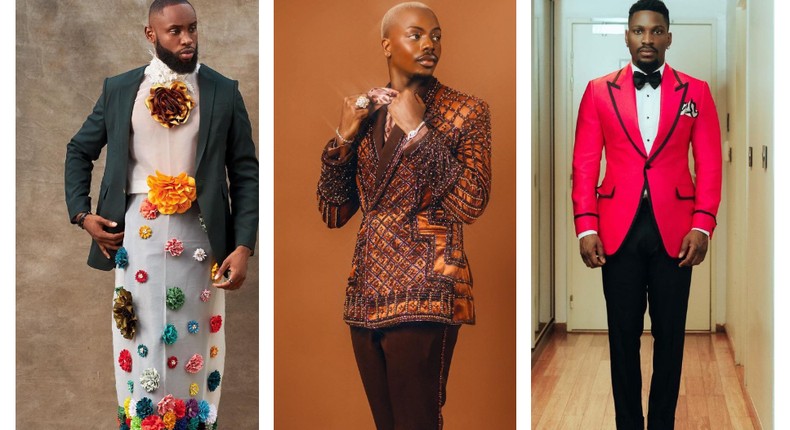 At this year's AMVCA, while we were all interested in the winners and nominees of the various categories, our eyes were also on the red carpet for the best and worst dressed.
Tobi Bakre
Best actor winner, Tobi made a strong case for the pink suit and we were taking all the notes. His shoes looked so good too.
Tope Tedela
Another man in pink, sign us up. We love it when men explore their feminine side but the fitting is a 100.
Yemi Cregx
Yemi took a break from suits and we have to say we love his coat.
Neo Akpofure
This free outfit from Neo is one of our favourite outfits on the red carpet, it's so laid back and gives rich man vibes, it's also a look we haven't seen in a while.
Enioluwa Adeoluwa
Eni won best dressed that night and we have to admit we love the fitting, colour and beading of his jacket.`
Akin Faminu
That suit was impeccably made, we were obsessed. Also, the use of two-tones for the fabric, delightful.
Worst dressed
Emmanuel Umoh
The idea was good, but the execution was poor, we just felt he wore a linen skirt and then decided to dress it up with flowers.
Chidi Mokeme
We all love Chidi Mokeme but that jacket was so too big, the trouser too long and the robe was unnecessary.
Kanaga Jnr
Kanaja! That outfit looked like it was twice his size, the draping was too much. He was carrying yards that can sew outfits for another person.
Whitemoney
There is nothing wrong with wearing a coat, but why does the coat look like a towel?
Related