Qatar charity donates 40 cows to 8 needy families in Sokoto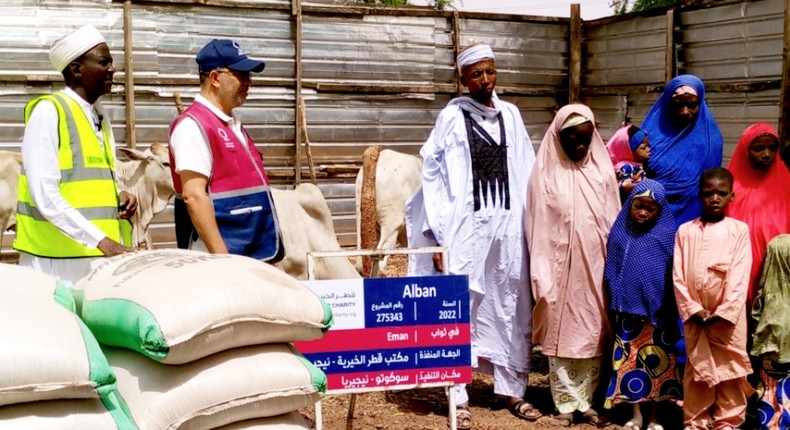 The Qatar Charity in collaboration with the Sokoto State Zakkat and Endowment Commission (SOZECOM), on Friday inaugurated its new project tagged "Livestock Empowerment value chain Programme to needy", in the state.
The News Agency of Nigeria (NAN) reports that the Inauguration commenced with eight families among the Internally Displaced Persons (IDPs) from Gandi in Rabah Local Government Area of the state.
In his remarks, Malam Muhammad Maidoki, the Executive Chairman SOZECOM, appreciated the founders for the initiative.
Maidoki said the system was a new model which would immensely impact on the lives of many people towards ensuring a sustainable society.
"We do not have enough words to thank the Qatar Charity's numerous interventions to our people, particularly the less privileged among us. Today's project is like many others we had benefited in Sokoto State, it is a value chain model system that will enable a sustainable family empowerment. Therefore, the benefiting families should remain patient and determined, because livestock business requires a lot of dedication to become sustainable," he said.
Also speaking, Dr Hamdi Alsayed, the Executive County Director, Qatar Charity Abuja Office, Nigeria, said the initiative was to assist the needy society to become self reliant.
He said in the first batch of 40 cows were to be distributed to eight families, where each family would benefit with five cows, bags of animal feeds and other materials required for livestock rearing.
"The cows will be artificially inseminated to be able to produce milk in commercial quantity for dairy production," Alsayed said.
One of the beneficiaries, Malam Altine Dan-Sale, who cares for a family of 14 members, appreciated the donors, while assuring to take good care of the cows gotten by his family.