Peter Obi lost presidential election, LP trying to force lies on Nigerians – Soyinka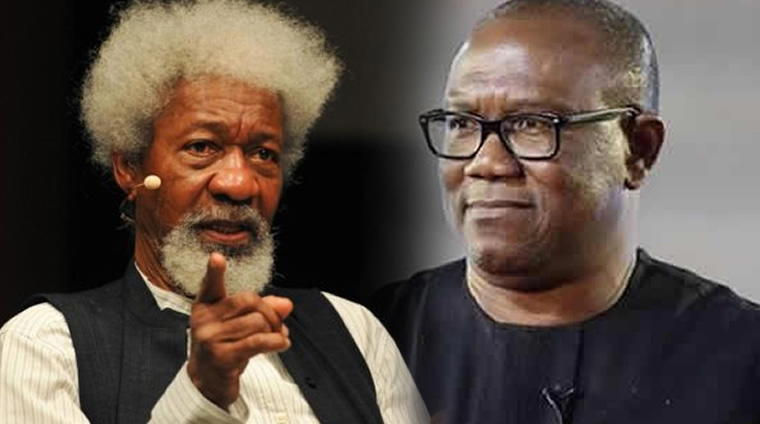 Nobel laureate, Prof. Wole Soyinka, on Wednesday slammed the Labour Party (LP) for trying to force lies on Nigerians as regards the winner of the 2023 presidential election.
Soyinka said at an event titled "The Lives of Wole Soyinka — A Dialogue" organised by Africa in the World in Stellenbosch, South Africa that the leadership of LP knew its presidential candidate, Peter Obi, lost the February 25 election.
He was asked to react to his comment against the Vice-Presidential candidate of LP, Datti Baba-Ahmed, after the general elections in March.
Soyinka said speaking the truth always matters to him, noting that many people always look for shortcuts, while he accused the leadership of LP of trying to force "a lie" on Nigerians, especially youths, that Obi won the election.
"This recent election – two things happened, firstly, One party took over the labour movement, which is not my favourite movement, and then it became a regional party," he said.
"Whereas, it was a marvellous breach into the established two camps. Peter Obi achieved something remarkable there, that he broke that mould. However, he did not win the election.
"I can say categorically that Peter Obi's party came third, not even second and the leadership knew it, but they want to do what we call in Yoruba 'gbajue', that is force of lies."
Soyinka in April had said that the comments of LP vice-presidential candidate, Baba-Ahmed towards the judiciary were unacceptable.
Baba-Ahmed during an interview in March said the country had no president-elect despite the Independent National Electoral Commission (INEC) announcing Bola Ahmed Tinubu of the All Progressives Congress (APC) as the winner of the election.
The LP vice-presidential candidate said Tinubu would be leading an unconstitutional government if sworn into office because the APC candidate "has not met requirements of the law".
Soyinka while speaking in a chat with Arise TV back then said Datti's statement in its totality was unbecoming, unacceptable and dictating to the Supreme Court.
"I have never heard anyone threaten the judiciary on television the way Datti did. I heard the kind of menacing, blackmailing language that we were treated to by Datti. That kind of do-or-die attitude and provocation is not what I think we have all been struggling for," Soyinka said.