Pete Edochie bags 2 honorary doctorate degrees at age 76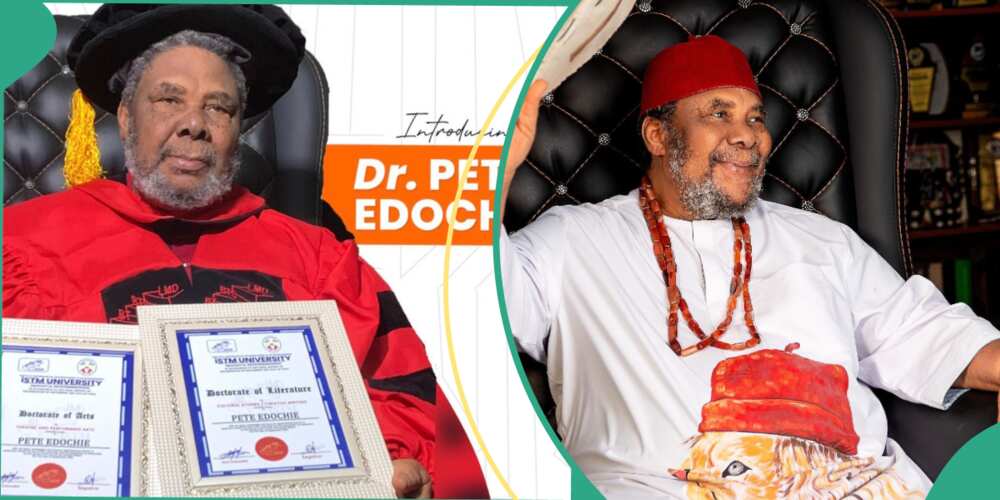 Pete Edochie is now a Doctor of Arts and Literature!
Nollywood veteran actor Pete Edochie has been honoured with not one, but two doctorates and a lifetime achievement award. The actor was bestowed the honours at his home by the representatives of ISTM University in Togo. In the viral video, the actor was seen being dressed in ceremonious attire before being awarded with his honours. The awards included a Doctorate in Literature, a Doctorate in Arts, and a lifetime achievement award.
"For all the work he has been doing, and he has been the pioneer in everything that all the younger ones are copying. Dr. of Literature and ISTM Management wishes to give you these awards. Congratulations sir," the representative said while bestowing the awards on him. Edochie made his acting debut in by starring in The Village Masquerade, a Nigerian television drama series created by the Eastern Nigeria Broadcasting Corporation. Furthermore, his portrayal of Okonkwo in the 1987 film adaptation of Things Fall Apart by Chinua Achebe propelled him to prominence in Nigeria's entertainment sector.
He has since starred in over 70 films in Nollywood and remains one of the most prominent and influential actors in Nigeria.