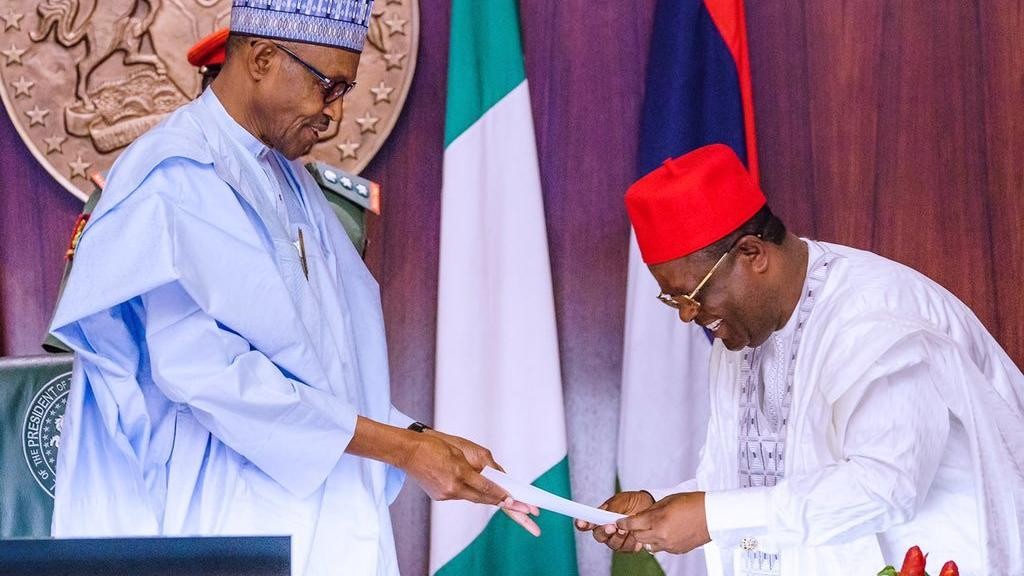 Governor David Umahi of Ebonyi state has said that President Buhari has done more projects for the South East than the PDP government who was in power for 16 years.
Umahi said this during an interview with Channels TV on Monday, June 14.
"The insecurity that they used against APC is a seed that was sown in 16 years of PDP administration and so it started germinating, bearing fruit at the time they were still in power. That is why we are suffering now and that is why Mr president is doing everything to solve it.
I think that APC people are not marketing their government very well. Mr president has done more projects in the south-east than we had in 16 years of PDP."he said
The governor also dismissed claims that indigenes of the South East have never been included in the security architecture of Nigeria
"People are still saying we are not represented in the security council meeting of this nation. I want to disagree with that.
When the late Attahiru was the Chief of Army Staff COAS, our brother Akanonu was number 15 in ranking and Attahiru out of love and relationship, took him from Number 15 to make him second in command.
Now, the man ought to have told our people that this is a favor done to him and so we are representing you, so that we can appreciate the late Chief of Army staff and appreciate Mr President because the actual owner of the military is actually the number two who is in charge of operations and logistics.
So that didn't happen and that is why I had to pay a visit to the family of late attahiru on behalf of the southeast to appreciate what he did and of course his military assistant is also my junior brother who is from the same local government with me. So there are misinformation.
And when it was time to replace him, we said look, this man is from SouthEast, he is the second person who should occupy the position. That is misinformation because he is actually number 15."he said
When asked if he doesn't believe the South Easterners are marginalized, Governor Umahi who also serves as the chairman of the southeast governors forum said
"My position is that there are certain things that happen in this country were even Mr President or even the Ministers will not be aware of, where in a particular ministry, somebody from the South East is due for promotion or is due for a particular appointment and is not appointed, how will Mr President know about it?
My position is that we should articulate all our grieviances and let the youths give us the opportunity and the chance to engage the center. Some of these grieviances, we may take it on our own and look at the issues and then we would be able to say this is good, this is not good. Forexample, I never knew that somebody from the SouthEast is the second in command in the Navy or the Airforce. I can't remember precisely. We need to know some of these things. I cannot say that the South East is not marginalised but it cannot be in totality"he said
The governor added that as part of measures to restructure the country and make it more inclusive as well as quell the tension in the country, Nigeria needs to produce one vice-president who will represent each geo-political zone.
"Well, I have a different view about this restructuring thing. My position about restructuring — for example: there are certain valid suggestions that have been made, to have six vice-presidents in the country. Each one is kind of coming from each of the geo-political zones. Tension will go down. This is very important.
Now, I will recommend administrative restructuring, which is making sub-national governments to be strengthened, devolving power and responsibilities to sub-national governments; abolishing the local governments" he said