Late Emir of Dutse, Muhammad-Sanusi great Nigerian—Osinbajo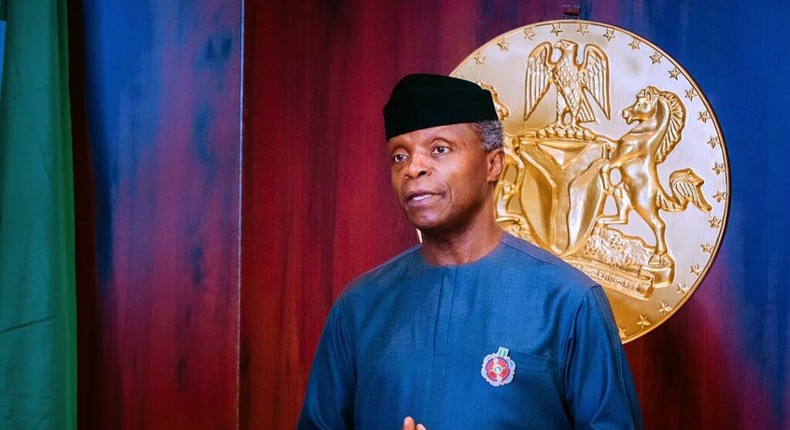 Osinbajo's spokesman, Laolu Akande, in a statement on Sunday in Abuja, said the vice president paid a condolence visit to the family of the late traditional ruler in Dutse.
Muhammad-Sanusi died on Jan. 30 at the age of 78.
The vice president said the late Emir deserved to be celebrated for the positive impact he made in the society.
He expressed his personal condolences and also on behalf of President Muhammadu Buhari and the Federal Government, to the late traditional 's family, the emirate, people and government of Jigawa.
Osinbajo said: "The late Muhammad-Sanusi was a dear friend and father figure who could be described as an institution."
Quoting Buhari, Osinbajo said the death of the late monarch was not just a loss to the Emirate or to the state, but a great loss to Nigeria.
"I would like to express my sincere condolence today on the loss of a great Nigerian; he believed in this country and also wanted the advancement of this emirate, and the country. "I want to say that he has made an impact, and all of us who were associated with him are very glad about what he achieved in the years that he lived here. "I had a personal affinity with him and very frequently interacted with him, not just when I came here, but over time when I was able to speak to him. And he was always a man who showed tremendous wisdom; aside from the fact that he had written many books, including his own autobiography. He was a man who wanted to share his knowledge and experience with so many as much as he can. This is why I decided I must personally come, out of respect for him and for the memories that we have shared, and pay my respect," Osinbajo said.
In his remarks on behalf of the Jigawa Council of Emirs, the emirate council, and other traditional rulers in and around the state, the Emir of Gaya, Aliyu Ibrahim Gaya, thanked the vice president and his entourage for the visit.
He said that the emirates were grateful on the vice president's condolences.
"We really appreciate your visit, we thank the Federal Government of Nigeria. This is the time we need him the most, but Allah took him away.
"And like everybody knows, Allah doesn't make mistakes," he said.
Earlier in Lagos, the vice president also paid a condolence visit to the family of the late matriarch of the Adebutu dynasty, Dame Caroline Adebutu, wife of the prominent businessman and elder statesman, Sir Kesington Adebutu.
Dame Adebutu died on Jan. 19 at age 83.