FRSC confirms death of official in Abuja tow truck accident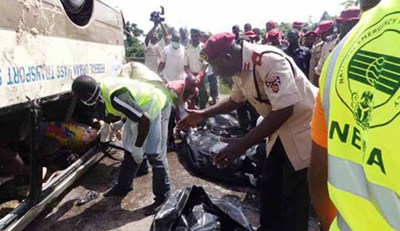 The Federal Road Safety Corps (FRSC) has confirmed the death of its official in an accident that involved a tow truck belonging to the FRSC and a broken-down truck in Abuja.
FRSC spokesperson, Bisi Kazeem, in a statement, confirmed that the incident which occurred on Karu Bridge on the Nyanya-Maraba expressway killed the driver instantly and injured three other people.
Kazeem explained that the FRSC tow truck was towing a broken-down trailer and the corps marshal, Dauda Ali Biu expressed deep shock over the sad incident.
According to the FRSC spokesperson, Biu has commiserated with the entire management and staff of the corps over the loss.
"The unfortunate crash occurred at exactly 04:02 am while the FRSC tow truck on tow services was removing a broken-down truck along the aforementioned route," Kazeem said.
"Investigation into the crash revealed that a total of four people were involved, out of which three sustained different degrees of injuries, while one person who happened to be the driver of the tow truck was killed."
Kazeem added that it was only the two vehicles, the truck and the FRSC tow truck that were involved.
"The Corps Marshal who was deeply saddened by the crash prayed for the soul of the deceased to rest in peace and directed immediate evacuation of every obstruction caused as a result of the crash," Kazeem said.