Adesuwa Etomi set to feature in Inkblot's upcoming movie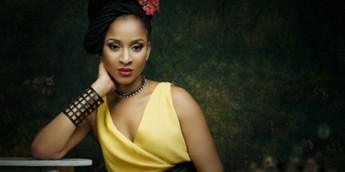 Adesuwa Etomi-Wellington, alongside other star acts, is set to feature in Inkblot yet to be named production. In a recent post by Inkblot on Instagram, the production company revealed a few details of the forthcoming movie as well as the fact that the project has wrapped up its production shoot.
The video revealed some of the cast who would feature in the production. Aside Adesuwa, the cast mates include Mofe Duncan, Jidekene Achufusi, Seun Ajayi, Blossom Chukwujekwu and Layi Wasabi.
Isioma Osaje is in the director's chair of the production, which commenced on August 12, 2023, as revealed by a post on their socials. One of the posts read, "It's a wrap! Late nights, tough days, an even tougher crew and our incredible cast, it's over now. We can't express our gratitude enough. A big shoutout to everyone who was involved in this project".
Osaje also shared that the production of this untitled project is her second feature film as a director.
The movie title and its synopsis haven't been revealed, but it promises to be something different, especially with the constant hints that have been dropped on their socials during the shoots.
This is exciting news from Inkblot Productions as we await their September release, A Weekend To Forget, which is set to tell the story of a group of people set to have a weekend of memories they will never forget. The movie is set to be released on September 22, 2023, in cinemas worldwide.