7 most Instagram-worthy Lagos restaurants in 2023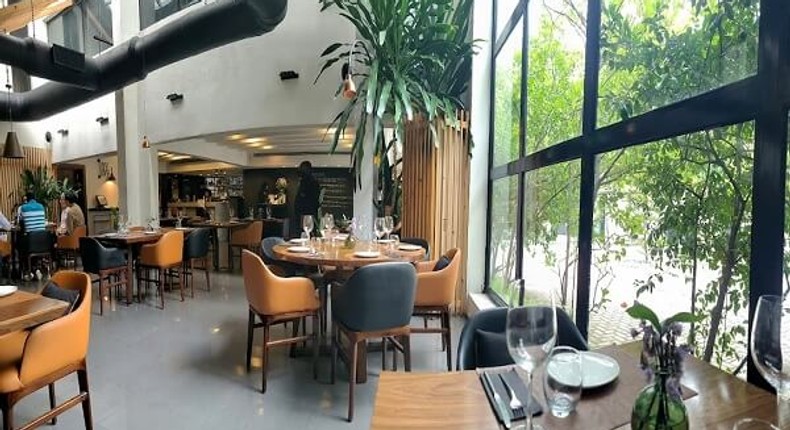 If you live in Lagos, one thing that you won't run out of is places to eat.
Of course, your pockets would feel the impact as the meals are notoriously overpriced, but you would always get a place to take gorgeous pictures to post on Instagram. P.S. These restaurants are on the Lagos Island.
With Valentine's Day around the corner, we have compiled a list of the best restaurants to take pictures and even propose. Also, note we are not talking about where to eat the best food.
1. Mist Restaurant – Art Hotel
From the first step you take in the Art Hotel, you would have a thousand and one places to take pictures, walking up the glass stairs to the restaurant, your brain would think of so many good picture spot.
The restaurant itself is dark and old-fashioned with comfortably low chairs. You can also pick a place by balcony and enjoy a nice view. Plus, the poolside of the Art Hotel is very Instagrammable but let's just stick with the restaurant.
As the name suggests, it's a very elite restaurant, as most expensive restaurants are. With glistening lights and glass interior decor, you won't run out of places to take pictures. Outside the restaurant, there is a white wall perfect for pictures and the poolside and bar are gorgeous.
3. Pause Cafe
This cafe is hands down one of the most beautiful places in Lagos with lush yellow couches and Parisian-like chairs. It also has an outdoor, garden-like sitting area. The inscriptions on the wall just add to the ambience of the place. You feel transported from the hardship of Lagos to a warm place.
If you are a big Lagos boy or girl, and you haven't been to Quays, I don't know what to say to you, taking a picture at Quays Lagos says, 'I've arrived, and I have money to spend.' The ambience is cozy too.
The interior of the slice is one that fluctuates between homeliness and luxury, with raffia baskets dropping from the roof and leaves all around, it has this africanness to it, even though the cuisine is anything but. Slice is the perfect place to show off pictures of exotic meals and drinks to your followers.
I haven't been there, but it is definitely on my list. Mostly, because the restaurant wall and interior are drawn in two-dimension and Egyptian-themed. Whenever I see pictures taken in Sketch, I always tell myself that I would visit it soon.
7. Kappadocia Lagos
This cave-like restaurant has a very interesting ambience, I haven't been there but I would love to go there soon. Plus, it's a restaurant you would be proud to show off to your Instagram followers.